News, April 06, 2021
Tomorrow's Real Estate Leaders March 2021 Program Review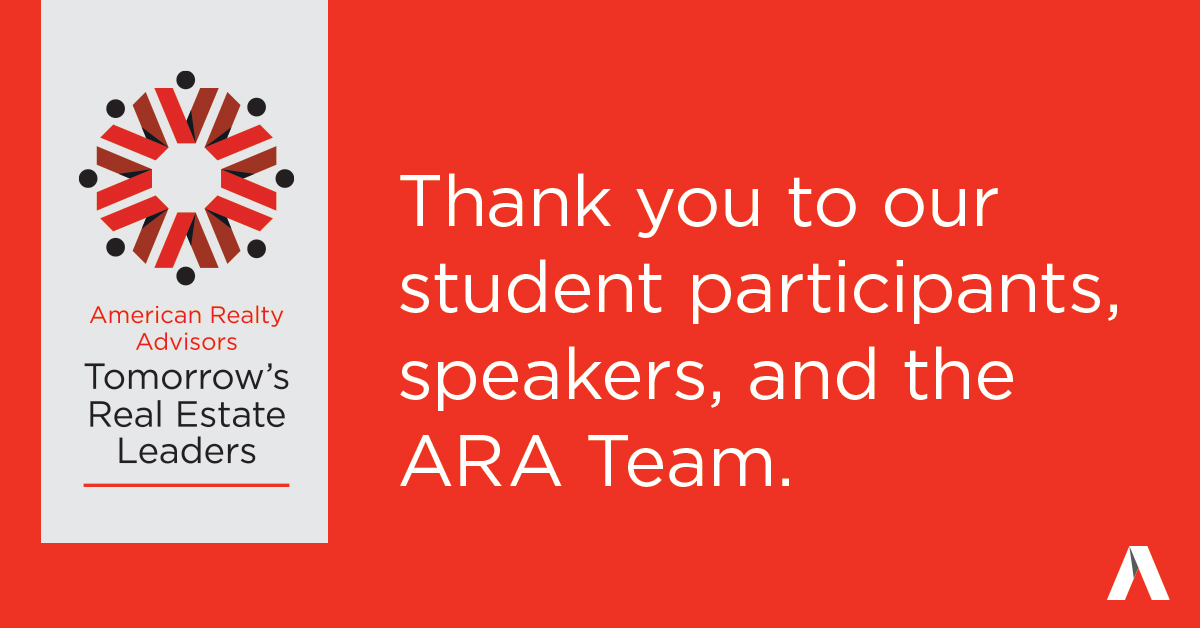 Thank you to the students of the ARA Tomorrow's Real Estate Leaders program which was held on March 26-28, 2021. Each of you took the time and energy to be a part of the program and it would not have been a success without your commitment, energy, focus, and participation. We want to also thank the mentors and speakers at ARA, keynote and featured speakers, and the key brokers from the major firms who helped with the case study competition. We could not have done this without you.
"The first Tomorrow's Real Estate Leaders Program was a tremendous success. We were excited to see the enthusiasm of the student participants and we're thankful for the work put in by the ARA team, the speakers, outside guests, and everyone who made this program come to life. At ARA, we believe in the power of a multicultural workforce and the need for diverse perspectives in the industry. We look forward to continuing this program in the future to help students of all backgrounds have access to useful tools to carry into their job search and future career." - Chris Smith, Tomorrow's Real Estate Leaders Program Director
March 2021 Program Highlights
18 Student Participants
Out of over one hundred applicants,18 outstanding students with diverse backgrounds from universities and colleges across the country were selected to participate in the 2.5-day virtual program. Students learned valuable skills for a future career in investment management and commercial real estate.

Two Program Speakers
Dr. Raphael Bostic, the 15th President and CEO of the Federal Reserve Bank of Atlanta, served as the program keynote speaker. The program featured speaker, Michael Banner, the President and CEO of the Los Angeles LDC, Inc., presented "My Journey to Community and Neighborhood Capital Commitment to Enhance our Cities - Making Communities Accessible to All".

14 Workshops and Learning Sessions
The ARA team along with special guests exposed students to what a future career in commercial real estate might look like. Sessions were held on a broad range of topics including, the Role of Real Estate, A Day in the Life of an Investment Analyst, Landing your First Job in CRE, among others. Workshops, a virtual asset tour, and a case competition also filled the program agenda.