News, June 14, 2023
ARA 2022-2023 ESG+R Report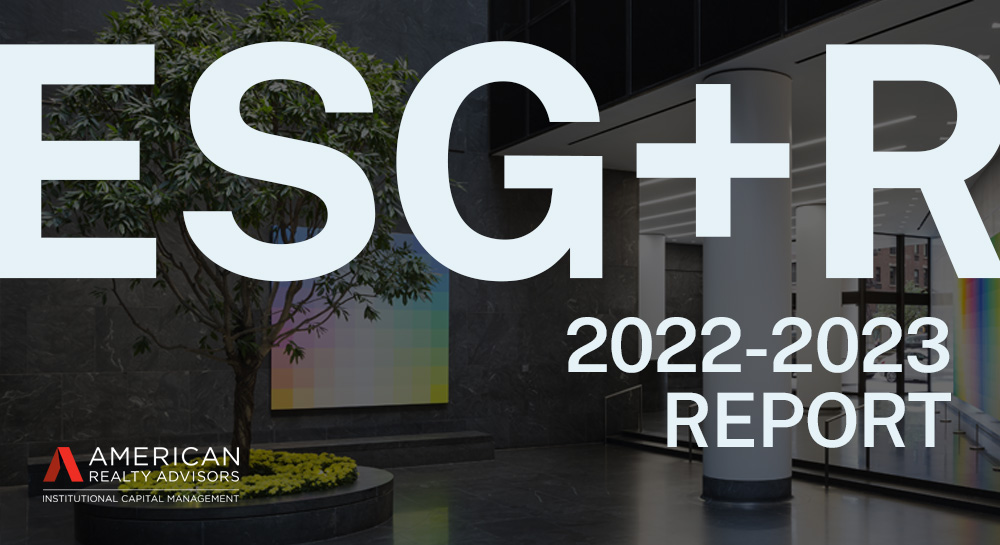 We highlight advancements made toward our environmental, social, governance, and resiliency objectives in our 2022-2023 Sustainability Report.

Sustainability Highlights
Water Conservation and Stewardship
A rainwater harvesting system was installed at one property and it collected 5,000 gallons of water from June to December of 2022.
Aerator replacements in bathroom sinks that reduce flow from 1.5 to .5 gallons per minute are in-progress or completed at 10 multifamily properties. Once installed, we estimate saving over 7.5 million gallons of water per year and reducing water bills by $75,000.
No watering of ornamental turf in California and limited watering across other states with drought conditions.
Supporting Biodiversity
Beehives are established and thriving on the roofs of five properties.
ARA achieved our first National Wildlife Federation Certified Wildlife Habitat at one of our residential properties1. An extensive planting project is underway featuring native species.
Energy Efficiency
LED retrofit projects were implemented at five properties.
Real-time energy management software is being used actively at three properties. Alerts allow proactive response to shifts in energy use.
Waste
A new composting program was launched bringing the total to eleven properties with such a program in place.
ESG Performance Targets
In 2017, our core fund set 10-year goals for increasing waste diversion and reducing energy use, greenhouse gas emissions, and water use. Progress toward these goals is calculated annually against a 2017 baseline using an intensity methodology that compares the data on a per square foot basis. For the second year in a row, the core fund has surpassed the targets for energy, greenhouse gas emissions, and water.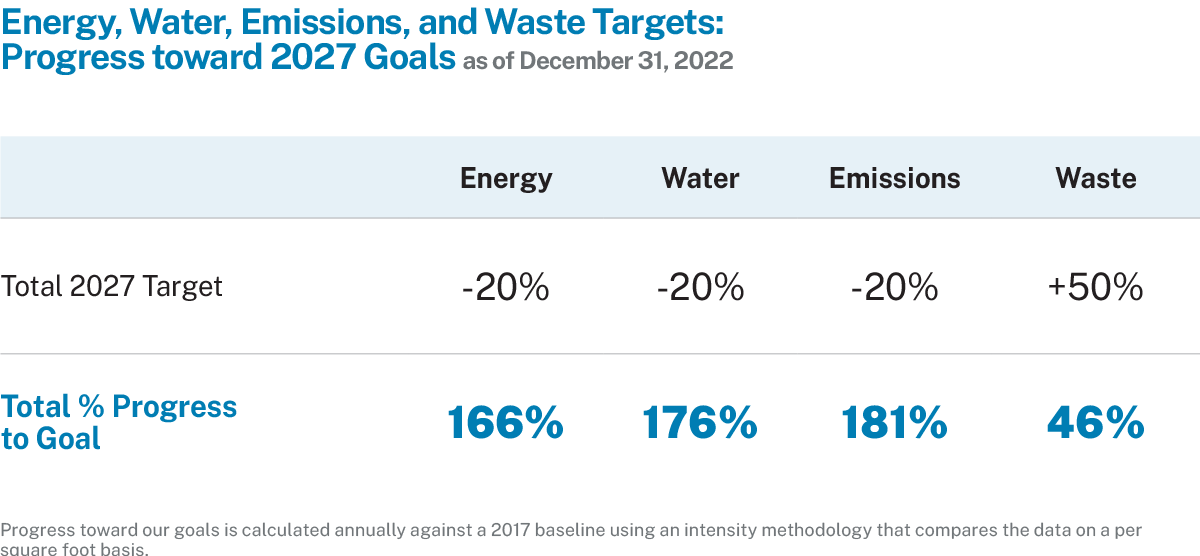 GRESB Results
The rating highlights our commitment to integrating sustainability best practices into our investment strategy as part of the pursuit of attractive long-term returns for investors and aligning our business activities with the broader interests of society2.
This is the ninth year our core fund participated in the assessment; the 89 score reflects the firm's continued progress and commitment. A major highlight of the fund's 2022 assessment is the first-place score in the management category within the Americas, which contained 484 total funds. Overall, the fund outperformed its peer group of 56 diversified core funds in every scored category including leadership, policies, risk management and assessment, data monitoring and review, and building certifications. ARA is ranked second out of its national peer group and sixth out of 101 participating diversified core funds in the Americas.
GRESB B.V. (GRESB) created and tabulated each of the core fund's scores which covers activities taking place during such calendar year and is typically released on or around October 1 of the following year after materials for the core fund are submitted to GRESB. In order to obtain a rating, the core fund must pay a participation assessment fee per submission to GRESB.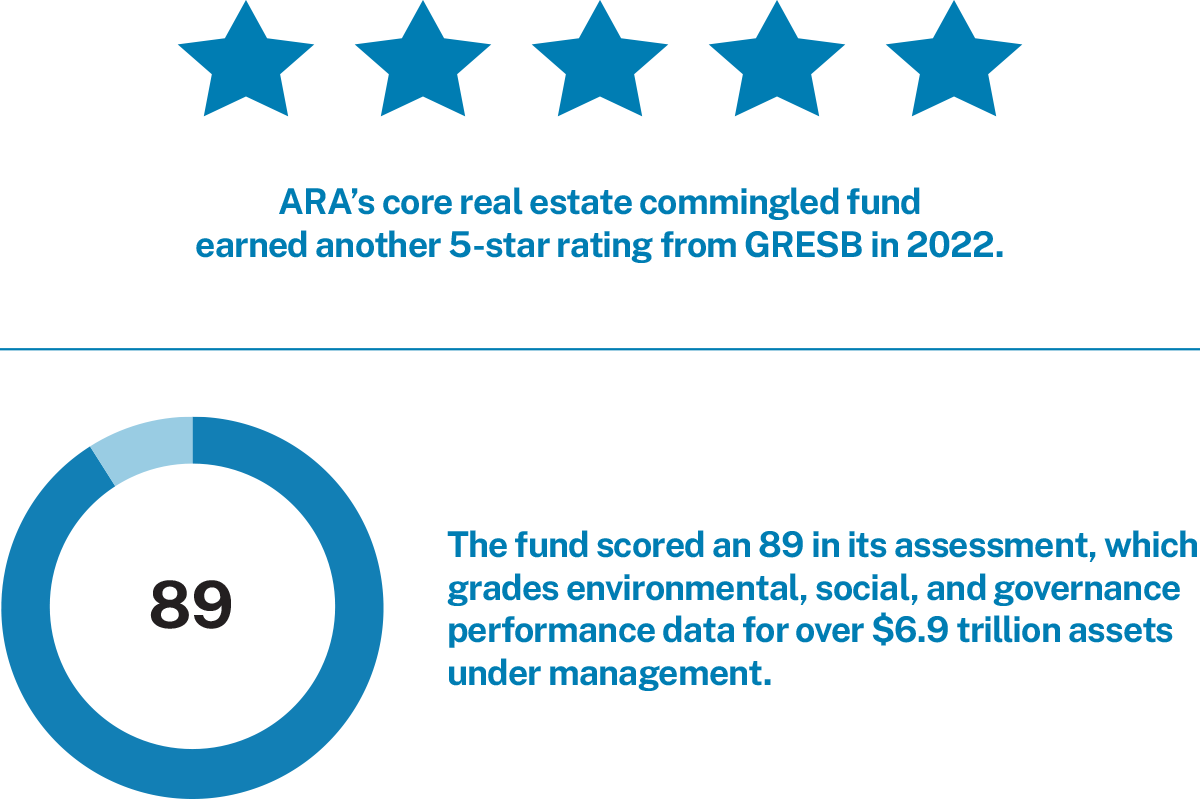 Community and Employee Engagement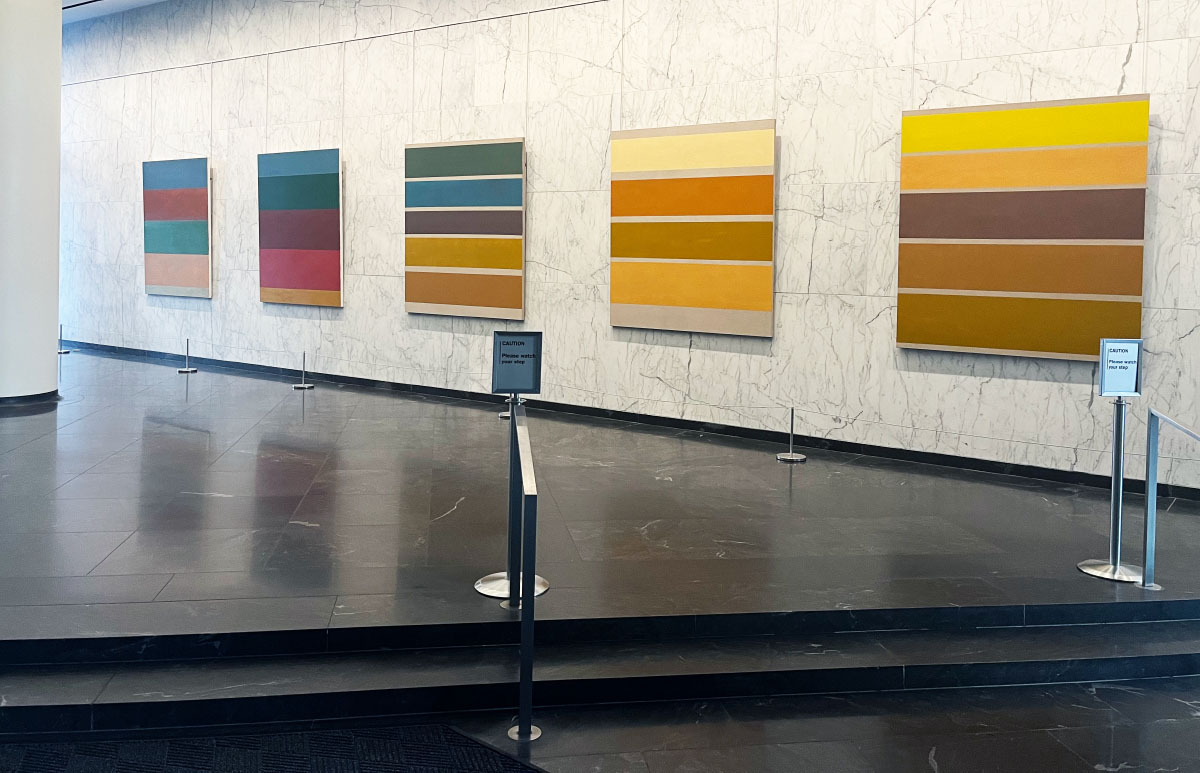 Art in the Community
Every quarter, a special art exhibit is displayed in the Lobby Gallery at 499 Park in New York City. The Lobby Gallery is open to the public on weekdays, contributing to the cultural community as an expression of excellence in visual arts and architecture. The exhibition Heat and Shadow was created by New York-based artist Kim Uchiyama and includes seven works inspired by her trips to Sicily.
Green Janitor Education Program
Four properties in the funds managed by ARA supported their janitorial workers joining the Green Janitor Education Program, taught by the local SEIU. Participants are professionally certified after receiving on-site instruction on sustainable building operations and green cleaning.
YMCA Stair Climb
For the fourth year, ARA participated in a stair climb event to benefit the local YMCA, coming in 10th out of 119 teams. The team raised over $6,100 to support programs such as summer camp, youth sports, college readiness, and after school enrichment to help students with the fewest resources to overcome barriers.
Movember
ARA's Movember Team raised awareness for men's health through the Movember Foundation. Each year, ARA employees can help support this cause by donating, joining the Movember team, or participating in Movember events. Over the past four years, the team has raised over $25,000 to support men's health.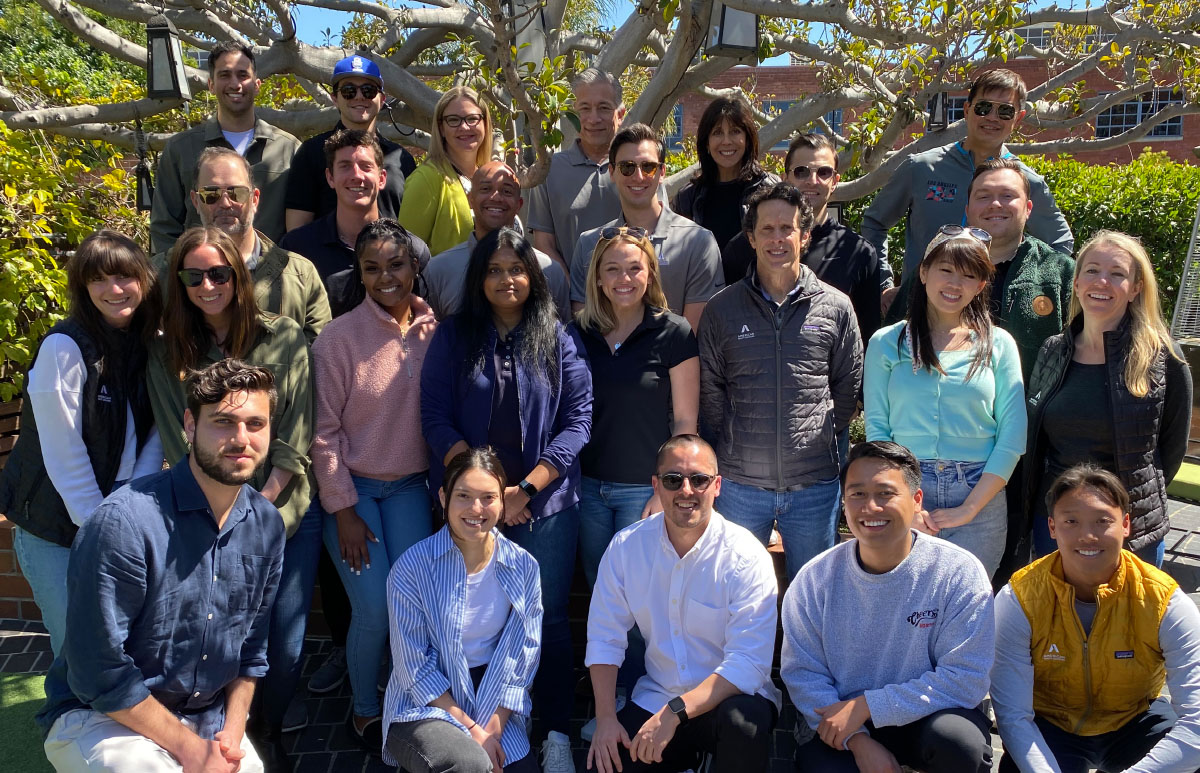 ARA Service Day with Meals on Wheels
Meals on Wheels provides community-based services that nourish and enrich the lives of our homebound neighbors of all ages by providing nutritious meals and referrals to other services that promote independent living and wellbeing. No matter why a person is homebound – chronic illness, frailty, disability, recent surgery or other physical or mental health issues, they face two major difficulties: poor nutrition and loneliness. Meals on Wheels prevents both by delivering nutritious, hot meals and daily friendly wellness checks, identifying risks before they become larger problems.
In March 2023, ARA employees helped Meals on Wheels of West LA to package and deliver food to those who are homebound in the local community.
ARA Earth Day with TreePeople
TreePeople inspires and supports the people of Southern California to come together to plant and care for trees, harvest rain, and renew depleted landscapes. The organization has involved more than 3 million people in planting and caring for more than 3 million trees. The unique, engaging, and proven model empowers communities to plant a more resilient future and take personal responsibility for greening their neighborhoods.
ARA celebrated Earth Day with TreePeople by hosting an LA River Greenway Trail cleanup event on April 22, 2022. Employees learned the history of the LA River and its ecosystem. The team worked together to clear invasive plants, water, and plant seedlings.
ARA Supports Thrive Scholars
Thrive Scholars provides high achieving students of color from low-income communities the opportunities they need to thrive at top colleges and in meaningful careers. Scholars receive six years of comprehensive preparation and support starting as high school juniors, through college graduation and during the early stage of their careers. The high-touch program includes one-on-one mentorship and coaching helping to drive Scholars' success in leadership roles in high-impact careers.
In July 2020, the ARA team presented their professional career paths and personal backgrounds for Thrive's cohort of students. They offered advice on navigating the transition between college and professional life and establishing careers in real estate. Two senior ARA leaders also entered ongoing mentoring relationships with Thrive participants that continue to this day.
Notes
1Certified Wildlife Habitats are conveyed by the National Wildlife Federation and require a project registration fee. The award was granted on January 4, 2023 and does not expire.
2There is no guarantee that ARA will be able to deliver the results mentioned above as many factors such as changes in market conditions, interest rates, and responses to other economic, political or financial developments may have an effect on such results.
More to Explore