News, July 21, 2022
ARA 2021-2022 ESG+R Report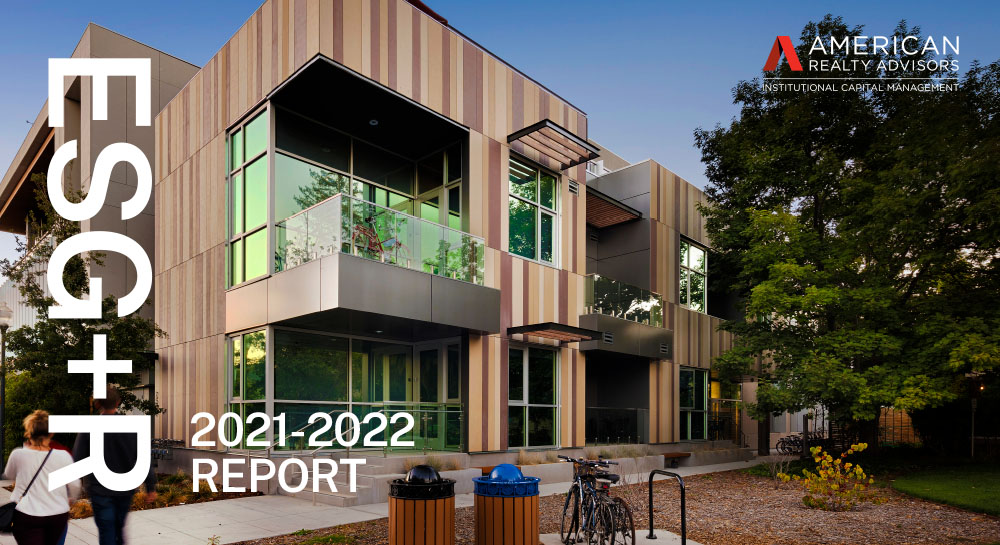 ARA's 2021 Annual Report outlines progress toward our environmental, social, governance, and resiliency goals.

2021 was a year of substantial progress for ESG+R at ARA. With the addition of the Director of Sustainability and Corporate Social Responsibility, we strengthened the ESG+R program and further embedded its principles into our corporate culture. ARA accelerated our core fund's progress toward its targets for energy, water, waste, and greenhouse gas emissions; improved its GRESB results; increased the number of new green- and healthy-building certifications; and was recognized with awards from peers.
Progress Toward Sustainability Goals
2021 is the fourth year of working toward the 2027 goals for reducing energy, water, and emissions and increasing waste diversion in the core fund. We are very pleased to announce we have already achieved three of these goals five years early. We will continue to push past these goals as 2022 unfolds and occupancies return to pre-pandemic levels.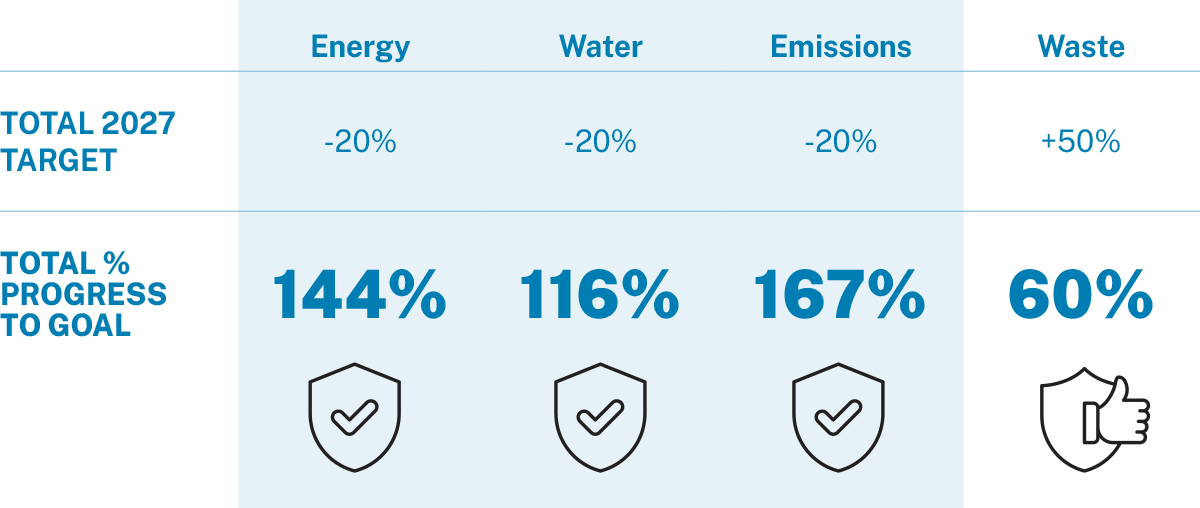 GRESB Results
ARA's rapid ESG+R performance growth was recognized in 2021 with our core fund's 5-star GRESB rating and an 11-point improvement on its GRESB score from the prior year.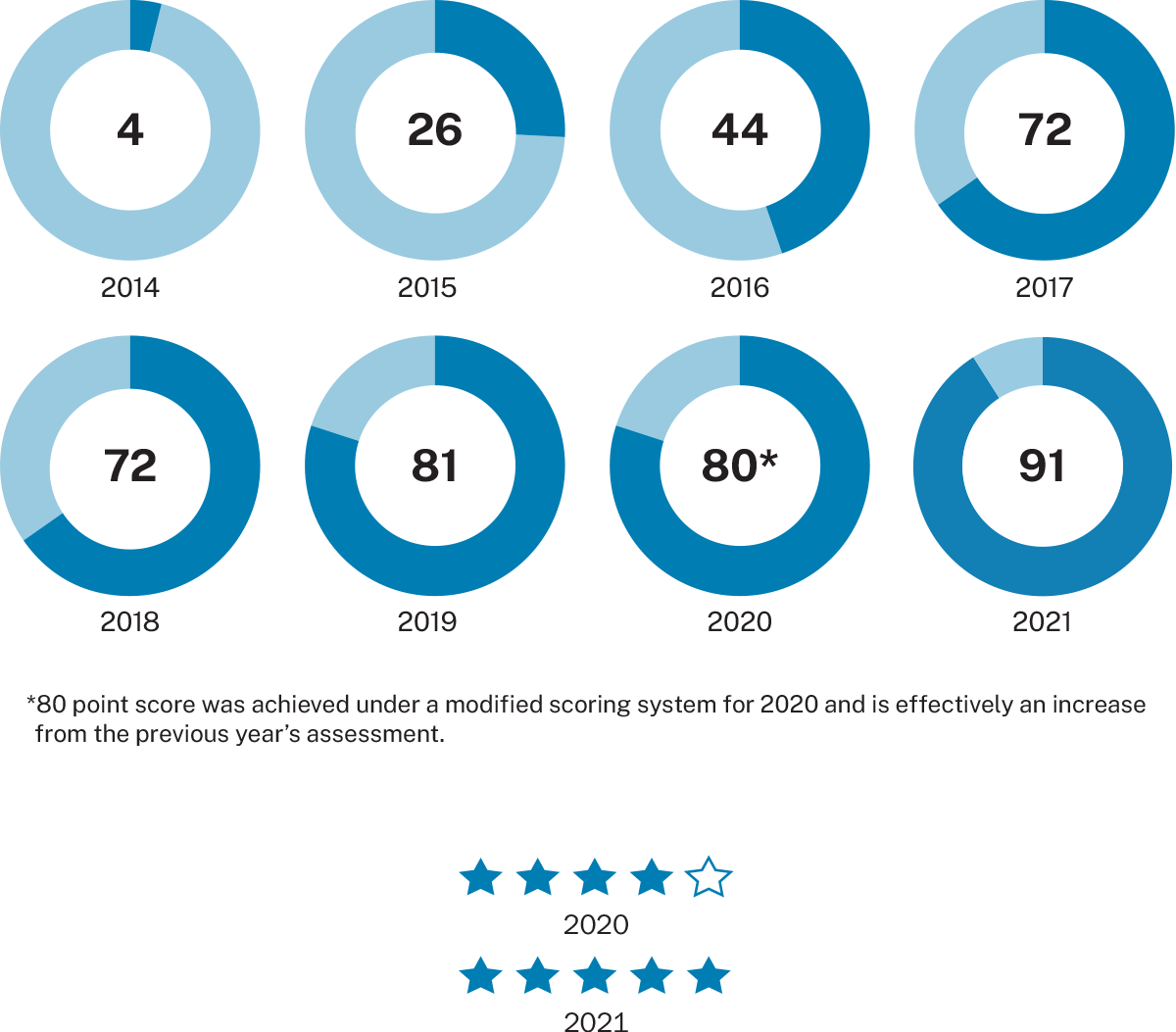 GRESB B.V. (GRESB) created and tabulated each of the core fund's scores which covers activities taking place during such calendar year and is typically released on or around October 1 of the following year after materials for the core fund are submitted to GRESB. In order to obtain a rating, the core fund must pay a participation assessment fee per submission to GRESB.
Awards and Recognition
ARA, our properties, and our people were recognized for ESG+R excellence.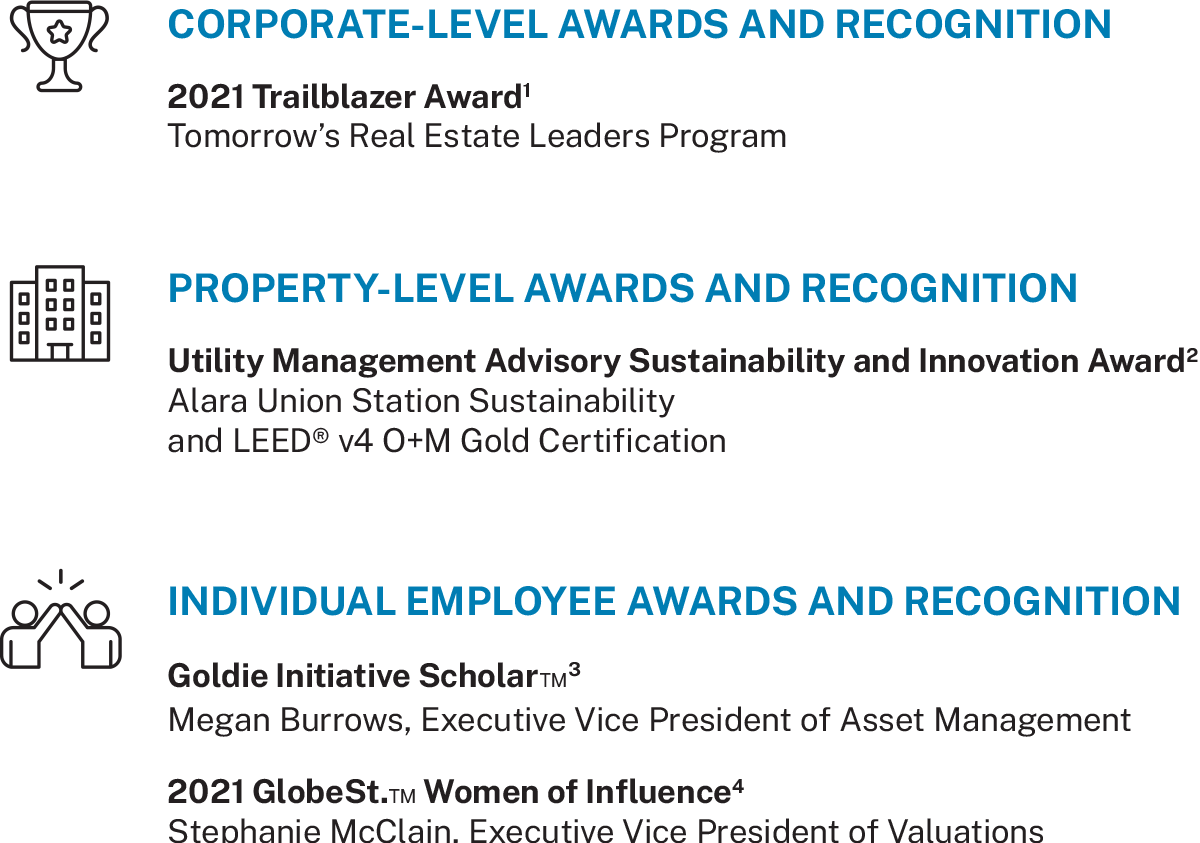 Notes

1The award was conveyed on September 16, 2021, from Verdical Group to ARA in recognition of Tomorrow's Real Estate Leaders Program that was held in March of 2021.
2The award was conveyed on March 9, 2022, from the Utility Management Advisory to ARA in recognition of the retrofit and resulting LEED certification at ALARA Union Station in July 2020.
3The scholarship award was conveyed on March 2, 2022 from the Goldie B. Wolfe Miller Women Leaders in Real Estate to Megan Burrows in recognition of her extraordinary academic and leadership potential. The award covers 2020-2022 academic years.
4This award was conveyed on May 14, 2021, from GlobeSt to Stephanie McClain as a top woman of influence in the category of CRE consultant/advisor.
More to Explore