Market Commentary, November 05, 2019
Industrial Real Estate Pricing: Let the Good Times Roll or Time to Roll Out?
Industrial real estate has been the darling of real estate investors this cycle and for good reason: it has outperformed other property types in the current cycle, driven by the increasing demand for newer high-quality state-of-the-art facilities to meet the increasingly strong technological needs of the e-commerce boom and the shift from inventory storage to "last mile" logistics in key demographic locations. ARA recognized this coming trend early and our investment strategy has benefited from transactions that have overweighted our portfolios to the asset class.
However, as they say, "nothing lasts forever". There have been opinions voiced that industrial may have run its course in the current cycle and the opportunity for attractive returns is over. Based on strong income growth, favorable property fundamentals, and significant yield premiums, we disagree.
Pricing Drivers – what is behind the numbers?
Pricing for top tier industrial assets of $25 million and larger has increased nationwide by 68% in the current recovery, climbing from an average of $91/psf in 2007 to $153/psf today. While this number may jump off the page to some, it is not surprising, as it is clearly supported by the increase in income during the same period. Industrial income growth grew an impressive 33% over this period driven by favorable property fundamentals benefiting from the evolution of consumer shopping patterns to include greater online purchases.
Increasing online purchases created the need for new distribution networks able to meet the delivery demands of online purchases including next day and same day delivery. Vacancy rates decreased from a very respectable 8.0% in the second quarter of 2007 to 4.7% as of Q2 2019 – a substantial decline.
Not surprisingly, as vacancy rates declined rent growth increased significantly more than doubling. The average industrial rent growth went from an average of 2.5% during the 2005 to 2007 period to an average of 5.4% during the 2017 to 2019 time-frame.
Capital Flows
Investors have taken note and made industrial the property of choice in their portfolios, seeking the asset type's strong income and low volatility resulting in pushing up sales volume and pushing down cap rates. Trailing twelve-month sales volume increased from $19.6 billion in the second quarter of 2007 to nearly $51 billon as of the second quarter of 2019.
Similarly, the number of industrial properties sold doubled over the same period.
Yields
Increased capital flows have led to cap rate compression with industrials cap rates now 95 basis points below the prior cycle's low. However, with fixed income yield down significantly more (200 – 300 bps) the relative industrial spread to bonds continues to look very attractive.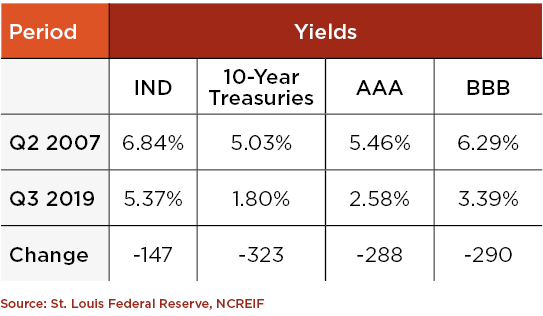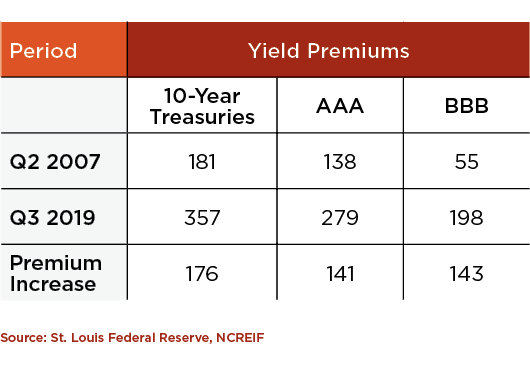 The difference is magnified when looking at yield premia on a percentage basis. Today's 357 basis point yield premium to Treasuries is even more desirable considering that the 10-year Treasury is only 1.8%.
What lies ahead?
Everyone agrees that industrial pricing has enjoyed substantial gains during this cycle's extended recovery but so has industrial income and income growth, which gives us confidence that current pricing is based on fundamentals. While a recession or more immediate trade uncertainty may temper near term demand, we expect the longer-term drivers, especially for newer higher-quality and well-leased industrial assets will continue to support income growth.
With a favorable spread over Treasuries and expectations of healthy long-term income growth, we anticipate industrial returns that outperform other asset types and that can provide investors with a stable anchor in balancing overall portfolio risk.