Press Release, June 30, 2021
Recent Closing Announcement - Premier Chicago Asset 1K Fulton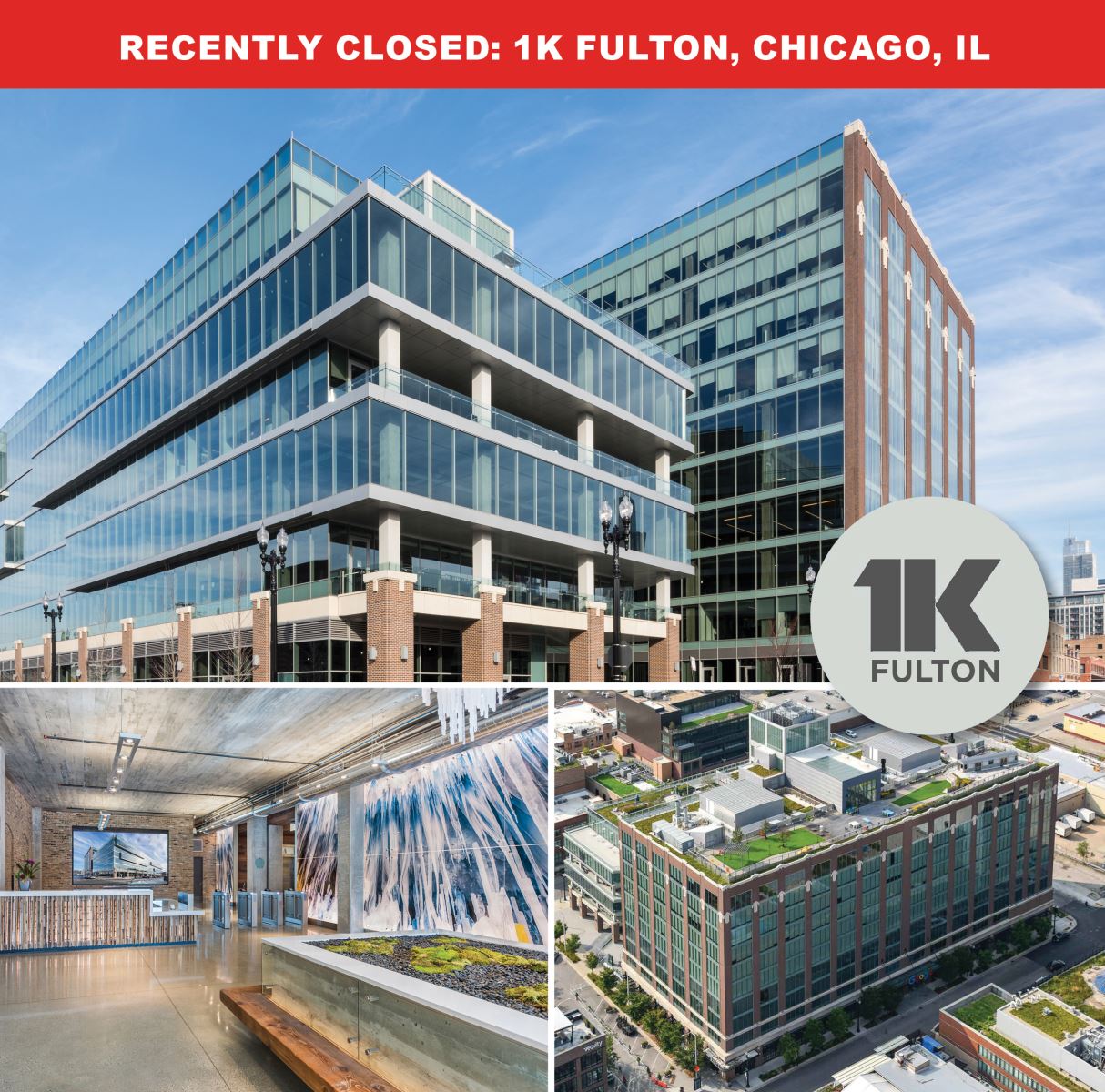 American Realty Advisors, LLC ("ARA") is pleased to announce the sale of 1K Fulton, a LEED® Platinum creative office building located in the heart of Chicago's Fulton Market District. The 531,190 square-foot office asset is 99% leased with 73% occupied by Google's Midwest headquarters.
1K Fulton was acquired for ARA's core portfolio in July 2016. With a cost basis of $290 million, the asset was sold on June 24, 2021 to a public REIT for $355 million.
Located in Fulton Market, one of the most sought-after high-growth submarkets in the country, the property was originally a ten-story redeveloped (built in 1923) cold storage facility annexed to a new six-story office building. Google's 2013 decision to relocate to 1K Fulton significantly propelled this market, which subsequently demonstrated substantial growth via a mix of creative office, luxury residential, hospitality, entertainment, and retail product. The property features a large tiered public plaza, landscaped rooftop deck, 24-hour fitness facility, 157- subterranean parking stalls, a high end steakhouse, and a shuttle bus service to and from the commuter rail station.
"The success of the 1K Fulton asset is a proof statement for our core strategy and showcases the vison that our research and investment team had for this market and the asset coming to reality. From purchase to disposition, 1K Fulton has been a tremendous opportunity for us to create value for our clients while also having a significant economic impact on the local market. We would like to thank the entire team at ARA who contributed to the success of this transaction," said Austin Maddux, Executive Vice President/Deputy Portfolio Manager.
ARA would also like to thank Stephen Livaditis, Jeff Scott, Matt Graham and the entire Eastdil Secured team.